The EA standard air knife structure is uniquely designed, mainly consisting of a circular air inlet, a wide straight air duct, a duct and a straight narrow air duct. The width of the air knife edge can be customized, that is, the wind speed can be adjusted. Adjustable air volume, adjustable wind pressure, small wind resistance and small pressure loss, especially suitable for ultrasonic cleaning agent, glass cleaning machine, circuit board, electroplating parts, coating film, painting, non-ferrous metal plate, wire body production, etc. It can be used for water removal and drying in various processes in different industries; it can be used for the barrierless isolation of harmful gases, dust, hot and cold air, and the paper blowing machine on the printing paper is dried after printing; it can be used for rapid heating, thawing and high temperature of food and medicine. Kill sterilization, can be used for dust removal and electrostatic dust removal.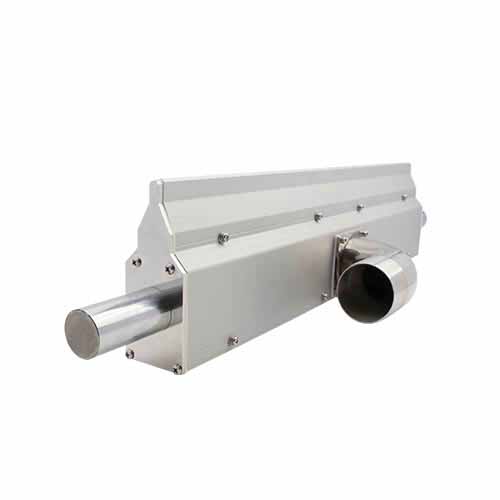 Characteristics:
The 6061 aluminum alloy is used as the body of the blade. It is precision-made and has strong air output. It is energy-saving, efficient, practical and reliable.
The structure adopts a unique design to ensure that the wind resistance is small, the wind speed is average, the wind is even, and the precision can reach +-5%.
The highest wind speed is 200M/s, the highest temperature is 250°C, and the maximum pressure is 2KG per square centimeter.
It can be equipped with practical high-pressure fan, centrifugal fan, high-speed vortex fan, Roots blower and medium-pressure fan as wind source, which is flexible and convenient.
It can be used with the heater to perform hot air drying or killing of hot air dryer.
The air outlet can be adjusted to a width of 0.3-3mm. A variety of air inlets and positions are available for easy installation. The custom length can reach 3 meters.